This weekend a seemingly phenanthrene-fuelled [actually alcohol-fuelled, Ed.] Blitzkreig was waged on Alderney by the Rioteers – the infamous farrago of twaddlers, fenilletons, wall-mounted heliantheae, philosophically mesomorphic, socially congelifraction-inducing bunch that we are. [Right, you've met Richard's word-inclusion challenge. In just one sentence, as I predicted you'd manage to do. Now would you please get on with the tour report? Ed.]
Okay. In to the (crepuscular) light we go …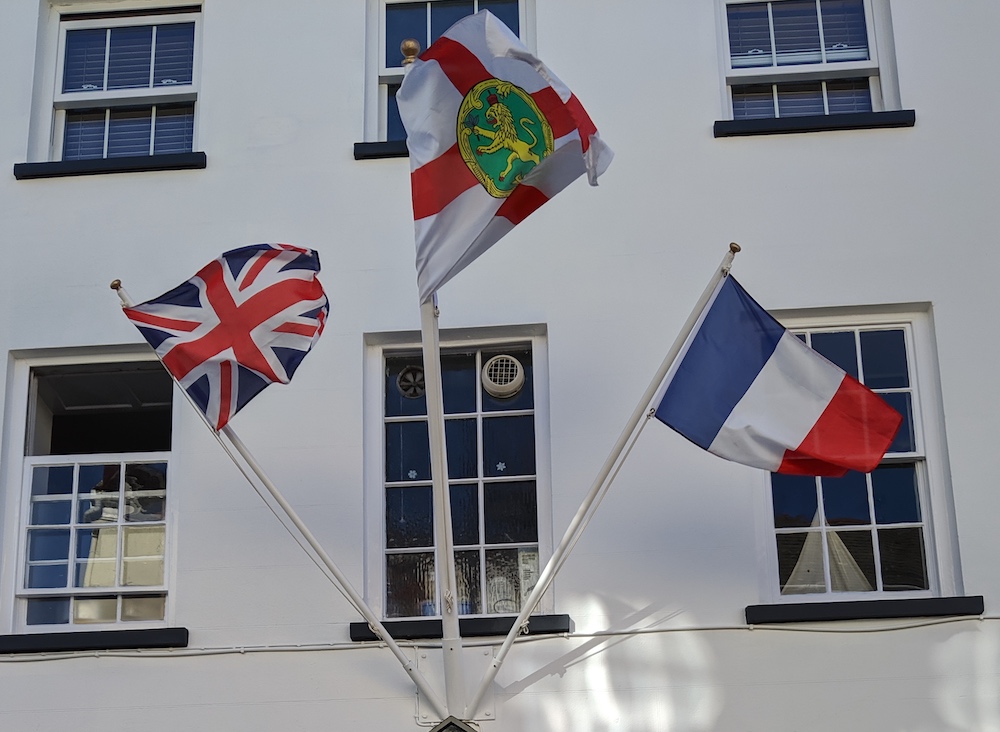 Aurigny, or Alderney to its English-speaking inhabitants, lies just off the coast of Normandy which is in the EU. It has been famously described by the great poet and philosopher John Arlott as "two thousand alcoholics, clinging to a rock" – to which said figure the Rioteers seemed keen to add during their stay on said rock. Your humble odist had heard various stories about the primitive bi-planes, tri-planes and suchlike that have previously been used in attempts to get our team of heroes to the island quicker than is possible via the biennial ferry. Therefore he was surprised when he left the gate at Southampton Airport to be issued on to a 747 and offered a flat bed upstairs in which to relax and shop during the journey back in time to our destination. On a cultural note, Aurigny is thought to be the location of both the lost city of Atlantis and the Elysian Fields of Hades (or Champs-Élysées, as many local residents call them).
We arrived on three separate flights. John and your odist arrived on the morning flight, were picked up by Richard in his limousine, then went for a happy wander around the western half of the island. That Peter was bumped off the morning 747 and had to travel on the early afternoon flight attests to the popularity of this island. Early afternoon delivered Peter and several other golfers, who did what golfers do, in this case with nine greens and eighteen tees at their disposal. We were joined early evening by another 'plane-load of tourists. Nous étions tous arrivés. Cameraderie and happiness were in no small measure of supply as we greeted one another as the loving teammates that we are.
The accommodation was splendid

Unrivalled in this part of France
We settled in to our accommodation and then headed for downtown St. Anne. [Actually Braye, you idiot. Ed.]
We dined at the chippy, brilliantly called The Chippy. A fish-, chip-, etc- and, most importantly, gravy-fuelled physiotherapy session ensued. We also wove in some psychological preparation—for what is a body without a mind but a Johnson-voter?—as team members aired grievances and/or joys while inviting like-minded or similarly experienced teammates to drink a cup with them. Alcohol-fuelled mental therapy is, after all, the most effective healer in both the short and the long term.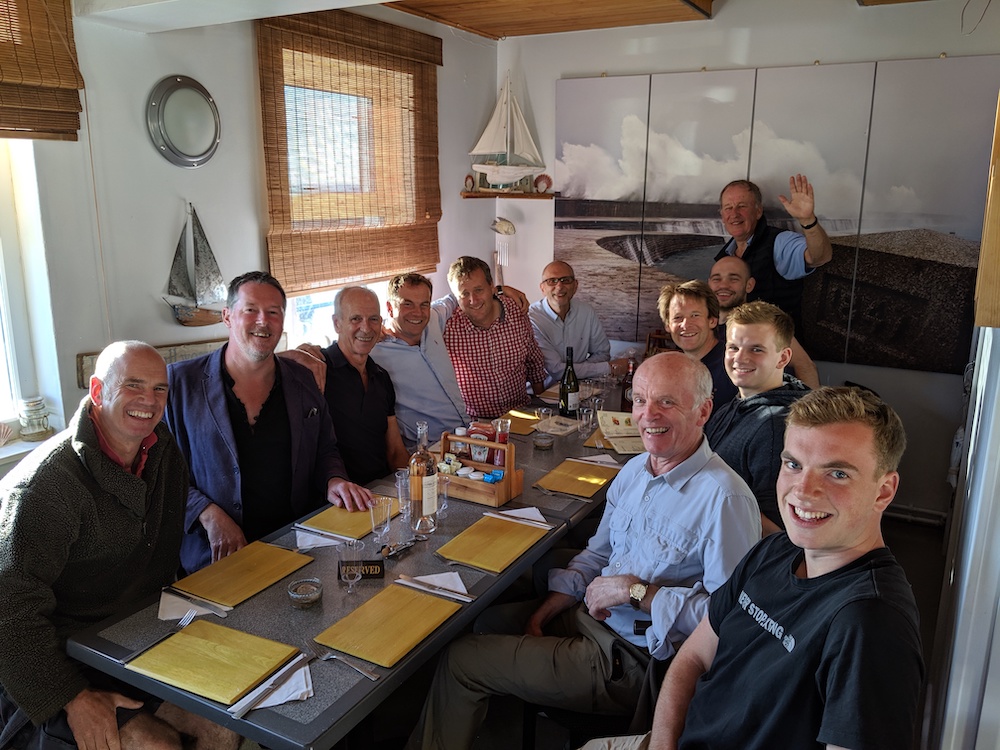 As the post-therapy tears of closure began to fall, we headed to the pub, where we stayed and drank and laughed and sang till the early hours, by which point we had reached that nirvana of optimum match-readiness that only a lucky subset of professional athletes ever truly experience.
Saturday morning was spent by some at the beautiful beach, maintaining the match-prepared equilibrium for which we'd all strived so perfectly the night before. Others felt the best way to stay at their peak was to relax in bed.
After this gentle morning of light breakfasts and/or light lunches, excursions, meditations, and whatnot, the Rioteers decided to eschew the team coach and walk to the ground in downtown St. Anne. [Actually geographically correct, this time, you idiot. Ed.] Robert, Marty, and Campbell were so perfectly focused on the task in hand that they nearly got lost on their way to the ground. To be fair to them, an island three miles long and one mile wide is exactly the kind of place where it is very easy to get lost.
Anyway, or rather next, the first, and most prestigious, of our two matches was about to start. The winner of Saturday's game would be awarded what surely must be the least attractive trophy ever to have been fashioned. This is universally acknowledged, such that our hosts are going to burn it and put its ashes in an urn for the next time … such is the rivalry between nineteenth-century Hampshire and eighteenth-century France.
Our revered and splendid captain Marty, having eventually found his way to the ground, won the toss and elected for us to bat in what is surely one of the most scenic cricket grounds in France.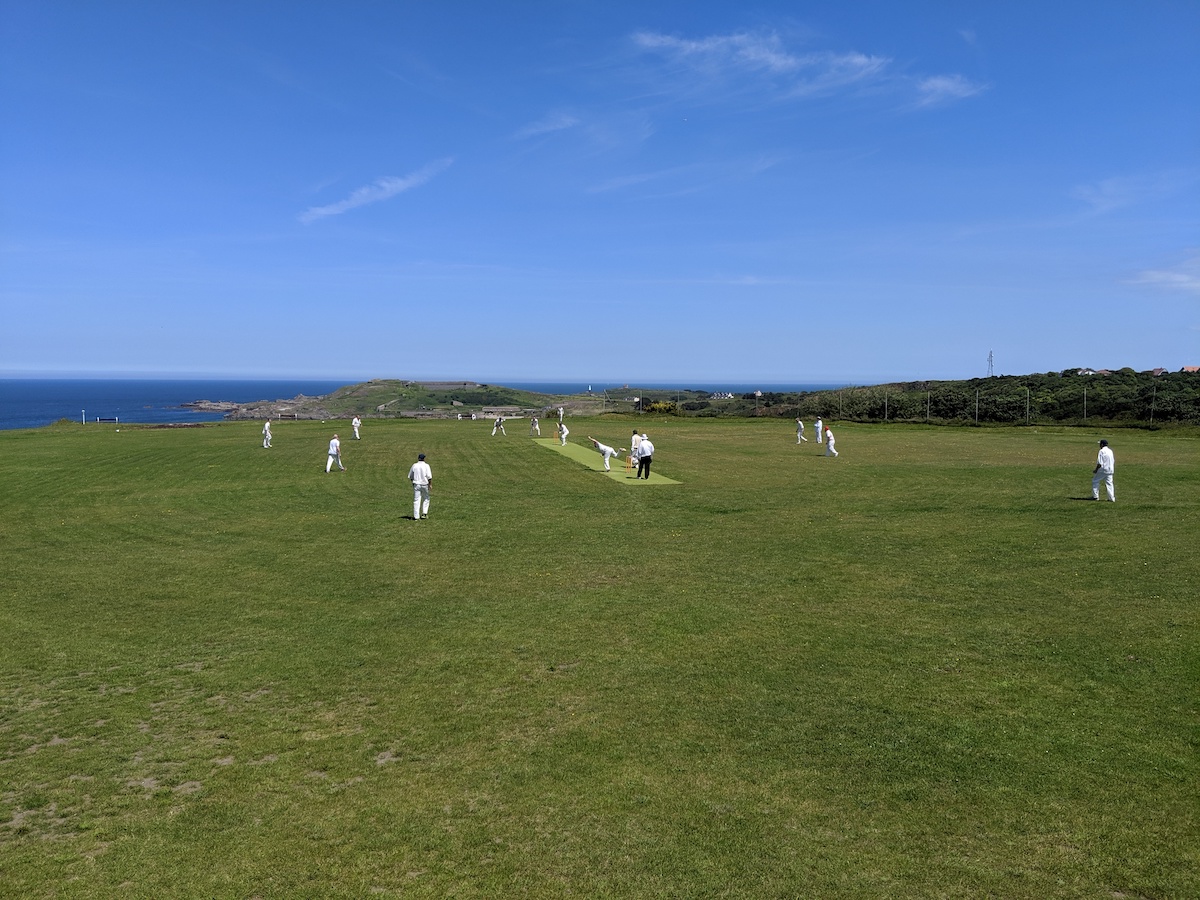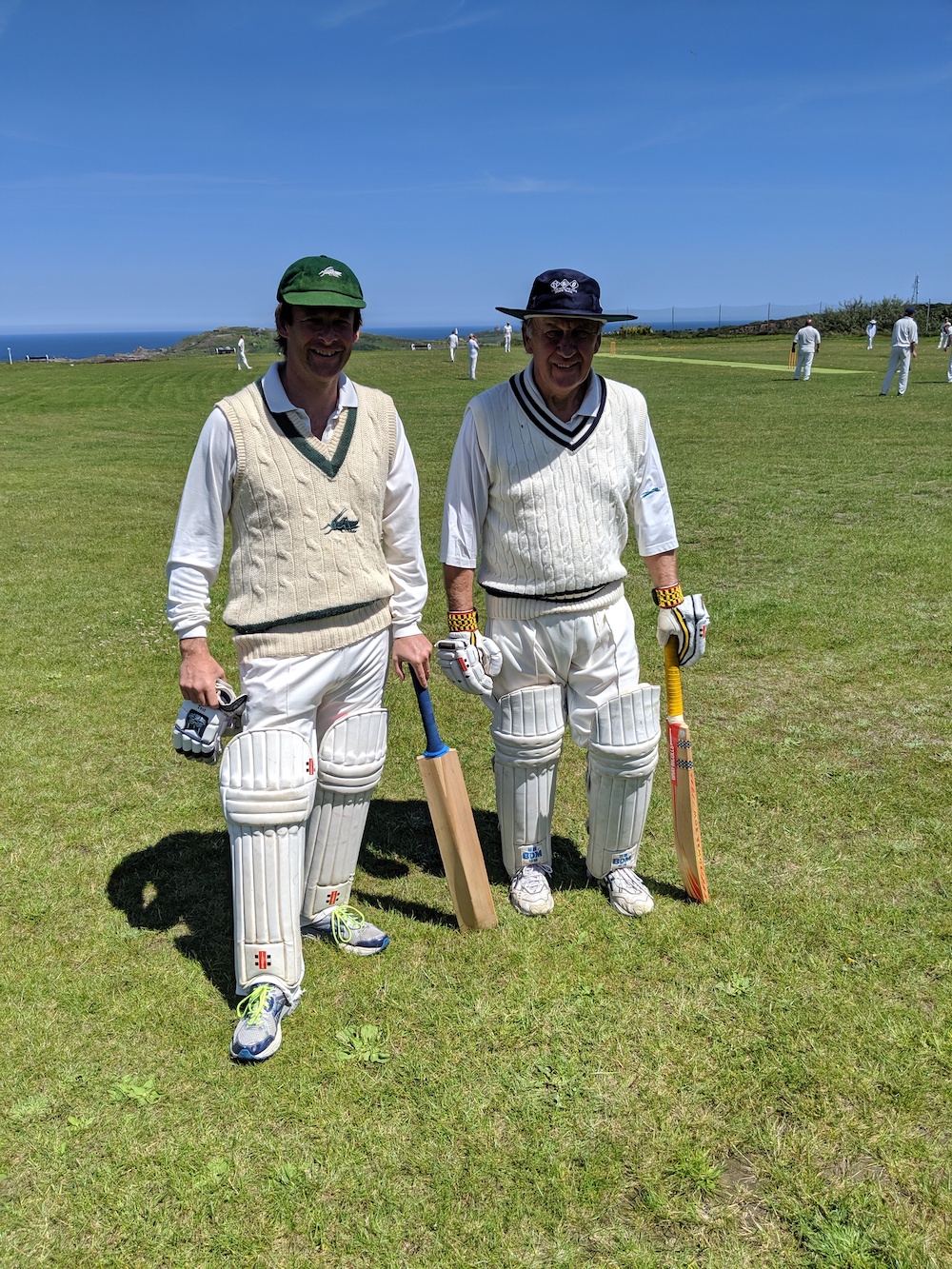 We built a superb total of 286/5 on the bedrock of a Brazier father-and-son opening partnership. While the detail of both Saturday's and Sunday's games is set out in Appendix 1, the following wagon wheels convey the salient information about our batting innings on Saturday.
Simon – 4 runs

Richard – 0 runs

James – 87*

Campbell – 76 runs

Bertie – 82 runs
The following piece of genius is dedicated to the fabulous performances of Campbell, Bertie and James on Saturday, and—spoiler alert—to Matt and Simon for their match-winning batting on Sunday.
Our batsmen had put us in an ascendant position, one which our bowlers never looked likely to relinquish. Again, details are set out in the appendix. Our fielding was distinctly touristy. On the bowling front there were some really splendid performances. John took a magnificent 3/13 off eight overs with two maidens (the splendidly deadpan umpire said to him something along the lines of, "It's like taking candy from babies"). Matt 2/6 off 1.1 over. Captain Marty took a wicket. First-time tourists Archie and Robert took 2 and 1 wicket/s respectively. The following piece of genius is dedicated to our bowling heroes, who won us the soon-to-be ashes in splendid style.
After the match both captains said a few, moving words, and, as we all shed a few tears in contemplation of the spirit of the beautiful game, Martin was presented with the trophy, the aesthetic quality of which has already been remarked upon. Debutant tourist Bertie was awarded man of the match (and an Alderney CC cap) for his majestic knock. Campbell was awarded a set of keys to the pavilion, in a forlorn effort to prevent him trying to use cricket balls to break his way in in future.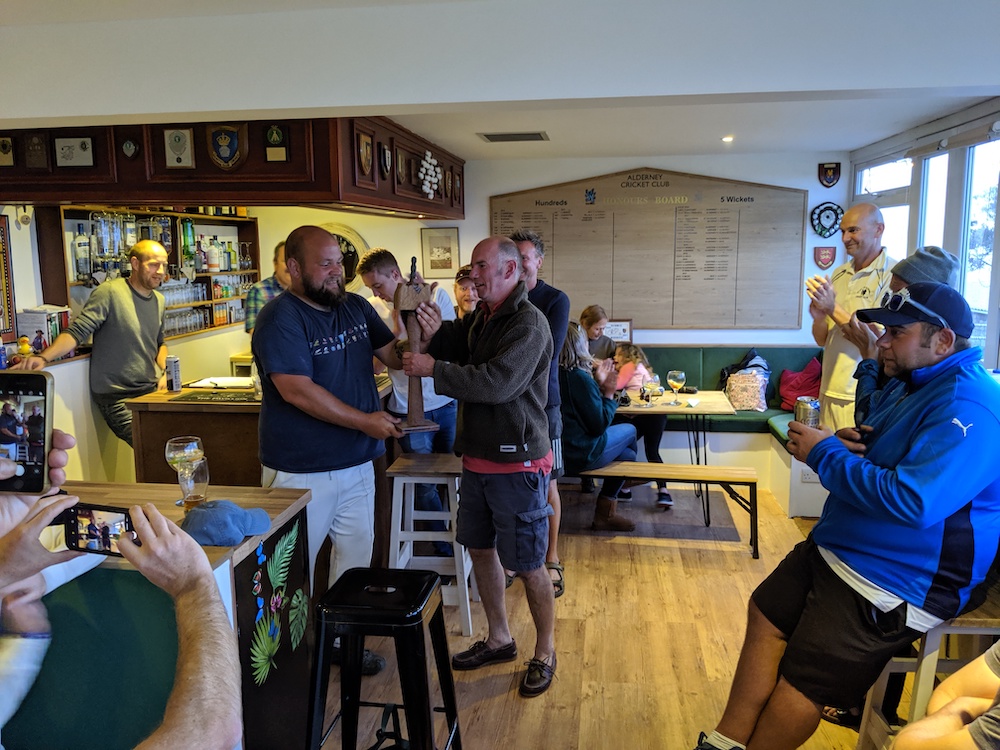 Saturday evening was an affair more subdued than that of the previous day. It is fair to say that, Aurigny being such a friendly place, most Rioteers felt as if we knew many of the locals.
Sunday morning was a special occasion indeed, featuring a concept that is surely soon to be made in to its own TV show. Breakfast with Braz is the very latest in alternate-world commentary, sure to entertain, enlighten, and embolden in equal measure. It certainly raised the Rioteers' morale, ready for Sunday's T20.
In Sunday's game we fielded first. The fielding was again touristy – apart from the magnificent Campbell, who invented Easter-Island-statue fielding and turned it in to a thing of beauty. Robert bravely stopped a sharp one in the field. Archie took a great catch. Moving from his outpost on a couple of occasions, Campbell took two wickets, as did Bertie (one of which owing to sage advice from John). We had been set a total of 172/4. Another solid father-and-son start, this time Marty and Archie, was built on by splendid performances by Matt and Simon, with another pavilion-threatening, late flourish from Campbell – the latter two finishing our innings and catching the total we needed with one ball to go. Congratulations to Simon on his 64* – a Rootesque, match-winning performance. We all knew that the T20 format was his natural habitat.
All through the weekend we enjoyed the wonderful hospitality of our splendid hosts – Alderney CC, Simon, and Richard. Thank you so much to you all, and to all players of both teams.
Your odist feels it is important finally to acknowledge Marty's friendship and captaincy, which is an example to all, and always embodies the spirit of the sport we all love. And it was lovely to accompany his two lads on their first tour. An ode to Alderney indeed.
Appendix 1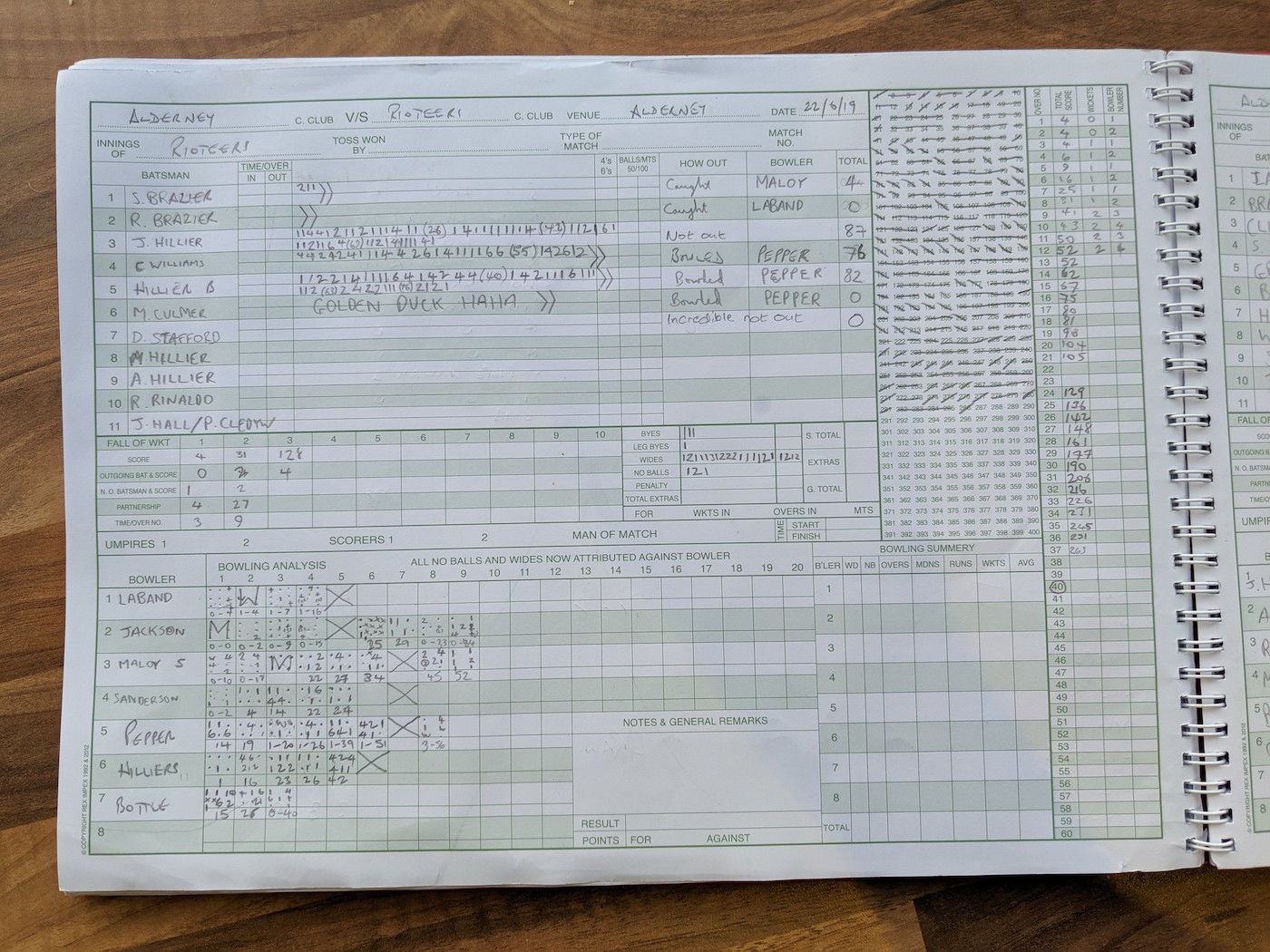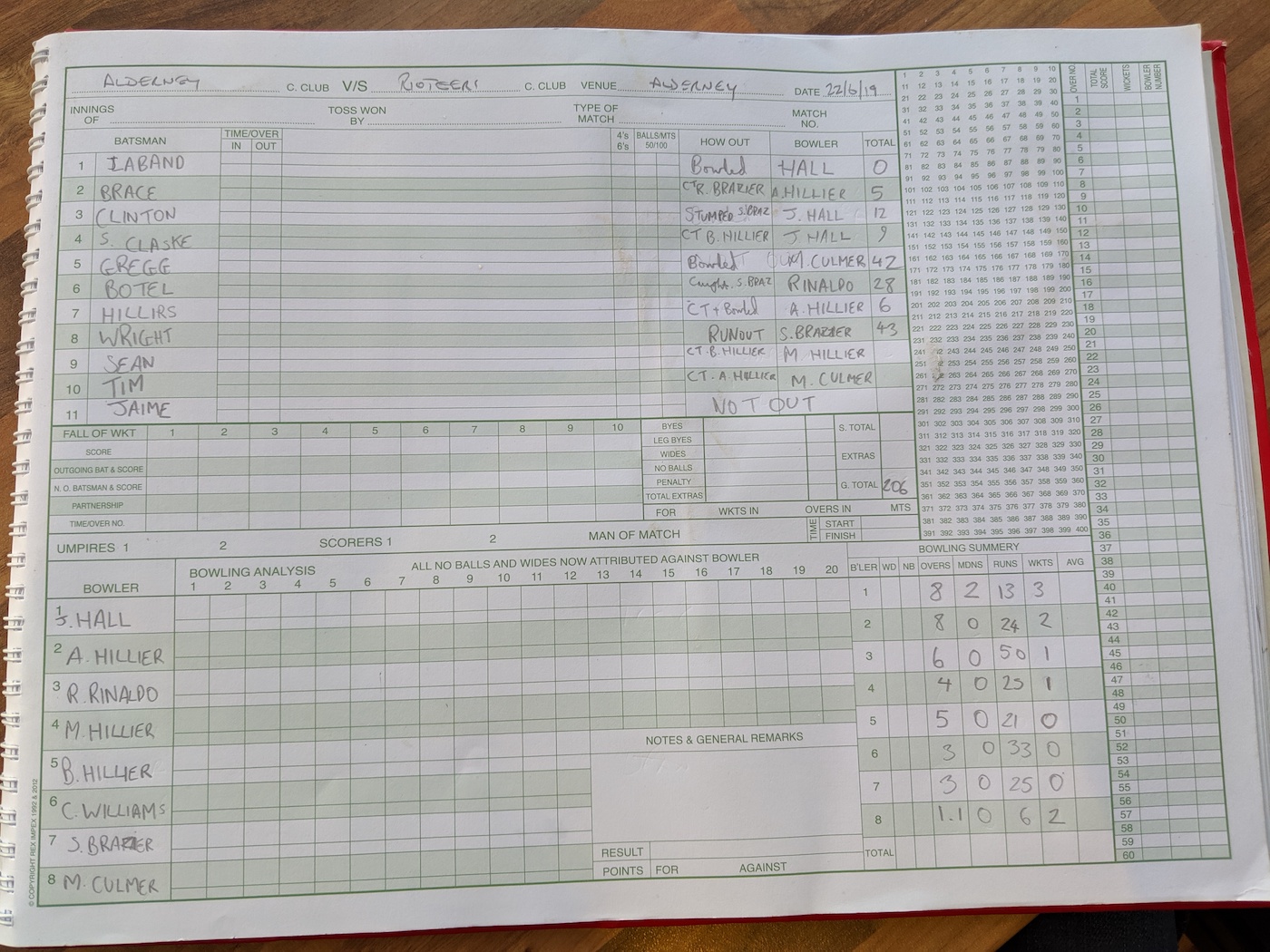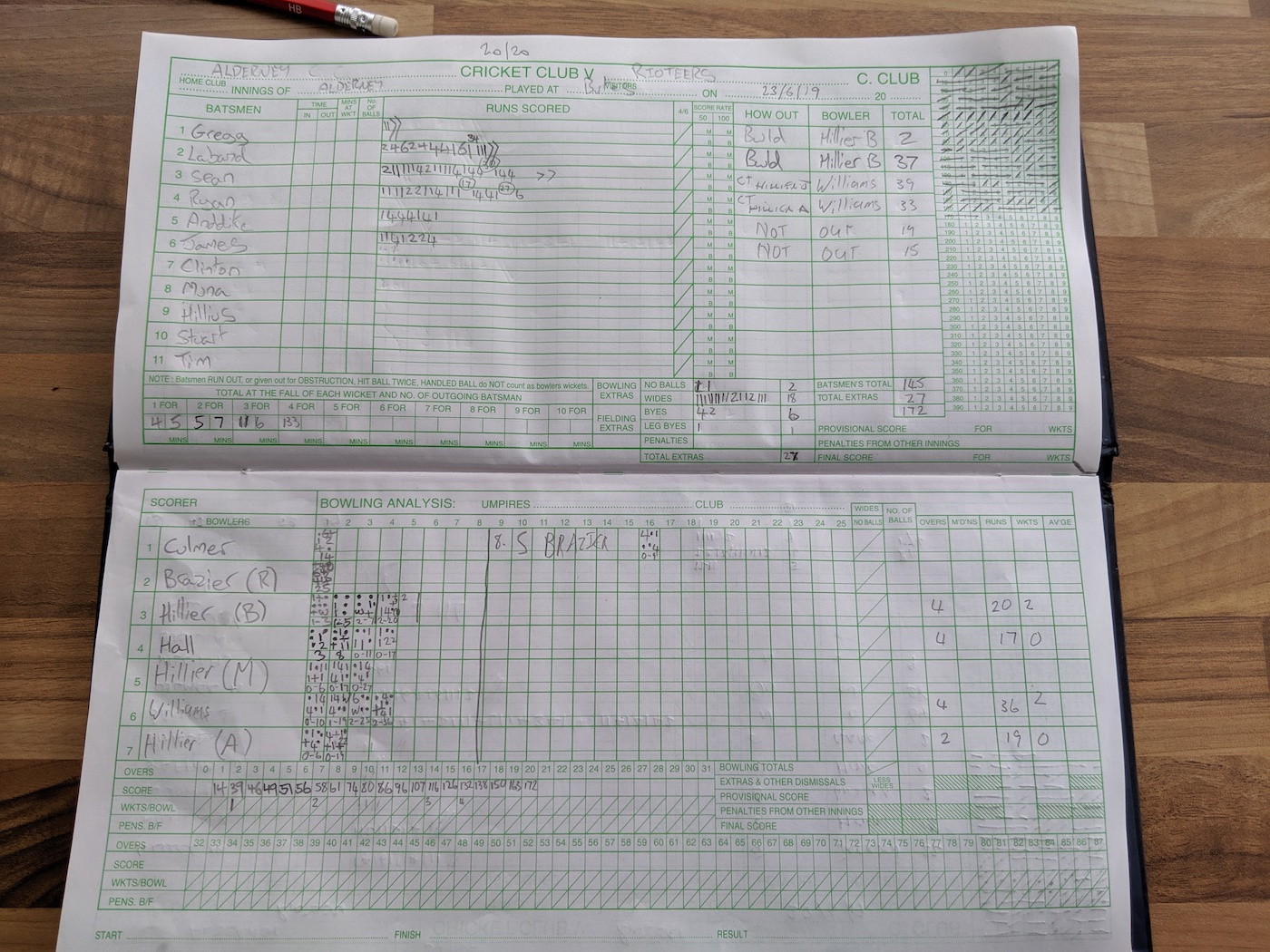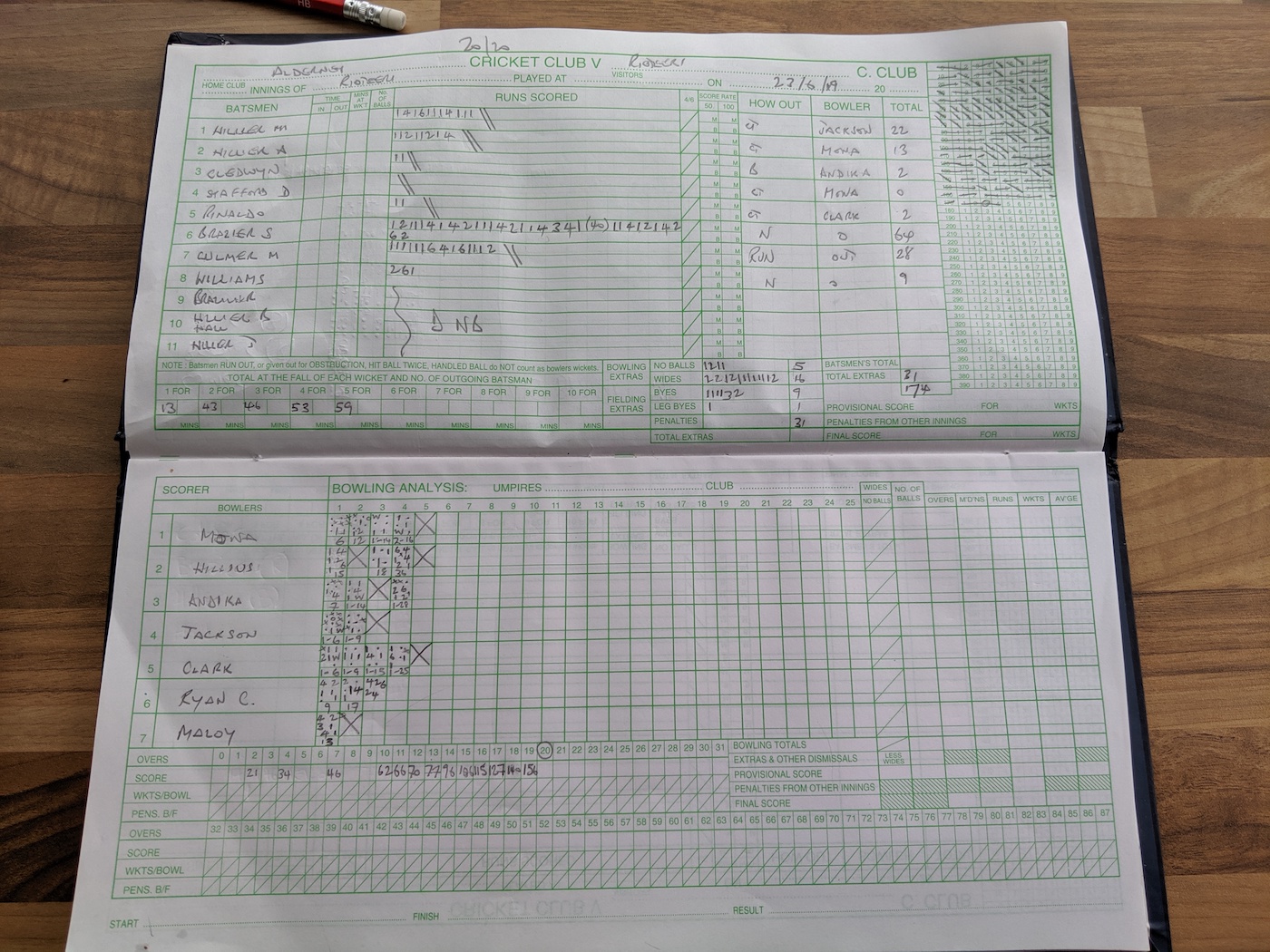 Appendix 2
Apropos of the wartime fortifications on Aurigny (and an excuse to end with a fantastic song) …
Appendix 3
You can find more photos from the tour at https://twitter.com/RioteersCricket
Appendix 4
Here's a somewhat low-resolution picture of Alderney CC's review of proceedings …